Białystok Medical University in Poland is one of the best destinations for students going abroad to study MBBS from India.
It is one of the fastest developing modern medical universities.
Established in 1950, this university teaches MBBS in English medium.
No donation or excessive fees are charged. Students who complete their studies at Białystok University can pursue careers worldwide.
Students can imbibe the best aspects of modern medical education from this university.
Białystok university also opens up opportunities for students to conduct research on individual subjects.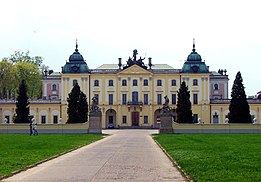 Learning is enhanced by the talented staff who accompany the students.
In addition, the university also provides many scholarships to students for conducting research. Internship programs are also organized for research.
Apart from this, the university also organizes study visits to touch on modern medical education.
The university represents global research in the field of medicine. 129 Full Professors 159 Associate Professors 900 teachers are tenured here.
Creative teachers are a great asset of the university.
It is one of the universities that fully utilizes the potential of artificial intelligence in teaching.
The university is characterized by modern research and the most innovative hospitals.
The Ministry of Education of Poland awarded the University of Bialystok for being a leading university in excellence. This university is one of the best universities in Poland.
Accredited by NMC and WHO, Bila Stock University is one of the premier universities for foreign MBBS aspiring students from India.
About 5800 students are studying here in 16 medical departments according to the latest estimates.
Out of this 400 students are studying in the English medium.
Students from India, Norway, Sweden, the USA, Canada, Germany, Spain, and Saudi Arabia study here. Inventions discovered by university researchers have been patented.
This university gives priority to the all-around growth and activities of the students. Students get good hostels here with the most modern facilities.
Also, students get many hospitals for training. students get individual attention from teachers.This enables the students studying here to make their mark globally.
Moreover, students can practice anywhere in the world. It is one of the world-class universities where students who want to study MBBS in foreign countries can study.